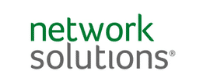 One-stop-shop. Best for small to medium-sized businesses that want tools to grow.
Visit Network Solutions
A domain name is essentially your address for the internet. Domain names – example.com, or example.org, for instance – are sold by domain name registrars and can be attached to your hosting plan. When a visitor types in your domain name, they will land on your website.
Technically speaking, all websites use unique identifiers called IP addresses, that look like this: 192.68.4.7 Domain names "point" to these IP addresses, allowing for much more memorable and brandable names on your website. But how do you get a domain name? And is it possible to get a domain for free?
How can I get a free domain name?
Typically when you register a domain, you will need to pay an annual fee ranging from $8 to $50+ per year (the most common price range is around $10-$15 per year). However, there are four ways to get a domain for free:
Get a free standard domain for 1 year by signing up for a hosting plan
Many web hosts provide free domain names (typically for 1 year) for people that use their hosting plans. This is not truly free, as the hosting itself will have a yearly cost – but the domain name is added on for free.
Get a free standard domain name by signing up for a website building service
Many services such as Squarespace and Wix make it simple to build a website without any previous experience. Many also include a free domain name (typically for one year) when you sign up. You'll need to pay for the service itself (which includes hosting), which typically costs around $10-$20+ per month.
Use a free service that allows you to get a free subdomain
This would look something like yoursite.wordpress.com. This is a truly free option, but it doesn't look very professional and is not ideal for SEO.
Get a free domain with an unpopular extension
You won't be able to get a .com or a .net domain for free, but there are ways to get odd, less popular domains for free. With a service like Freenom, users can register domains with extensions like .tk, .ml, .ga, .cf and .gq for free. This is truly free, but these domain extensions are not popular and are commonly used for spamming websites.
Of these options, #1 and #2 are the best – and the only options that most people should consider. Particularly if you're building a website for your business, it's very important to have a memorable, trustworthy domain name. The use of subdomains or odd extensions like .tk will not lend credibility to your website, so it's wise to stick to .com, .net, etc.
For most people, the best way to get a free domain name is to sign up for a hosting service that offers one for free. You will need hosting anyways in order to get your site online, so you may as well save some money by bundling it with a free domain. The cost of hosting varies, but basic shared hosting is affordable – often as little as $3 to $10 per month.
Our picks of where to get free domain names
Bluehost
Bluehost is one of the biggest and best domain registrars, as well as one of the most trusted web hosting providers in the world. They are an official partner of WordPress and provide WordPress web hosting to millions of websites. If you get a hosting plan with Bluehost, they include a free domain name registration (.com or other top extensions) for the first 12 months.
Bluehost hosting plans start at just $2.95 per month and include 1 year of free domain registration. The domain renews at $12.99/year after the first year (for .com domains). The company makes hosting and building a website easy, with tools like 1-click WordPress installs and a full-featured website builder.
Squarespace
Squarespace is a very popular platform that helps users build professional-looking websites easily. Squarespace is not really a "host", but rather an entire platform to build a website on. Everything is set up to be beginner-friendly, so it's quite simple to design and build a website.
Squarespace plans start from $12/month when billed annually. All plans come with a free .com domain name for the first year (which renews at $20/year). This makes Squarespace one of the more expensive options on this list; however, for beginner webmasters, the ease of use of the Squarespace platform is often worth the slightly higher cost.
DreamHost
DreamHost is a popular web hosting provider that offers low rates, powerful features, and a free domain name with all plans (for 1 year). They offer budget-friendly shared hosting plans and WordPress hosting with WordPress pre-installed. They also include other perks, like a free SSL certificate (many hosts charge extra for this). DreamHost also has a website builder to make it easier to get your website online.
DreamHost plans start at $2.59 per month when billed annually. The domain name will renew at $15.99/year after the first year. Usefully, DreamHost allows you to register domains with a variety of extensions using the free domain name offer. You can register a .com, .info, .net, .online or several other options.
Freenom
Truly free domain names (no purchase required)
Only offers odd extensions like .tk, .ml and .ga for free
Does not offer hosting (you will need to purchase hosting elsewhere)
Also offers normal domain names (.com, etc.) at low prices
Freenom is a unique domain registrar that specializes in free domains. They offer extensions such as .tk, .ml, .ga, .cf and .gq completely for free. If a domain is available with one of these extensions, you can register it for free with no purchase required. They also offer standard domain extensions, but these must be paid for.
These domain extensions are not commonly used, and not very recognizable or trustworthy. If you're running a business or trying to have a professional web presence, it's not a good idea to use one of these lesser-known domain names. But if you're just working on a hobby website or blog and you really don't want to pay for a domain, this is an option.
See our full review here.
Godaddy
Godaddy is a very popular domain name registrar and web hosting provider. They host millions of websites and specialize in domain registration. Like many hosts, Godaddy offers a variety of web hosting packages, as well as a website builder. Hosting plans start at $5.99 a month. Each hosting plan comes with free 1-year registration of a domain name, and you can choose from .com, .net, .org, .biz, or a dozen others. After the first year, the domain will renew at the standard renewal rate ($11.99 for .com)
Godaddy is a good choice for anyone who prefers to have all their web services in one place. They offer hosting, website builders, domains, professional email, and even professional services like design and marketing.
HostGator
HostGator is a large and popular web hosting provider (2 million+ websites hosted) and domain registrar. They offer website hosting, domain registration, professional email, a website builder, and more. Plus, their plans are very scalable, as they offer everything from budget-friendly shared hosting all the way up to VPS and even dedicated server plans.
Regardless of the hosting plan you choose, HostGator will throw in a free 1-year domain name registration. The domain will renew at the standard renewal rate ($17.99 per year). This makes HostGator a bit on the expensive side when it comes to domain renewals, but their hosting plans are reasonably priced (starting at $2.75 a month).
What to look for with a free domain name registrar
There are several ways to get a free domain, and many different companies competing for your business. Here are some top things to consider when comparing different options:
Free vs. "Free"
The only truly free domains are odd extensions like .tk and .gq, or subdomains like example.wordpress.com. These are actually free, meaning that no purchase is necessary, but the domains are not very trustworthy looking. You can get a standard domain (.com, .net, etc.) for free for the first year, by signing up for a web hosting plan that offers one. Although the domain won't be free past the first year, this is still the best option for most situations.
Top-Level Domain (TLD) Selection
You should pay attention to the variety of domain extensions that are available for your new domain. For "free" domains that come with a hosting plan, the host will give you a choice of a few different extensions – but you should be sure to double-check the fine print.
Prices & Value
Most of the time, to get a free available domain you'll need to sign up for a hosting package and/or other services. You'll want to find a service provider that offers good value and services with reasonable pricing. Pay attention to renewal rates during the checkout process, as some companies offer low first-year pricing but then raise the prices at renewal.
Domain Privacy Protection
Each time someone registers a domain, their personal contact information, phone number and email are publicly listed on the Whois domain database. To avoid spam, it's wise to get domain name privacy, also called Whois privacy, which will hide your personal information on the registry. Some services offer this for free, while others charge extra.
Reputation
You should stick with reputable, well-known companies that are trustworthy. The domain registrar should be ICANN accredited and have a good reputation. Avoid shady "free domain" websites for best results.
Domain Name Search Features
Finding a new domain name that is available (meaning not yet registered) can be tricky. Look for a domain registrar or online tool that offers a good domain name search feature to help you find the right domain.
Other Services
You need more than just a domain name in order to get your new website online. At a minimum, you'll need website hosting, and you'll also probably want a website builder, a business email address, and other services.
FAQs
What's the best way to get a free domain name?
In most situations, the best way to register a domain for free is to sign up for a hosting package that includes a free domain. You will need hosting anyways in order to get your website online.
Can I get a free website?
To have a website online, you need a domain name and a web hosting plan. You generally cannot get both of these things for free. However, if you don't mind a basic website without a custom domain name, you can use a free service like WordPress.com, Google Sites, etc. to get a basic webpage online.
Can I get free professional email? 
There are many free email services such as Gmail or Hotmail, but to get professional email using your domain (yourname@yourdomain, for example), you must typically pay a fee. However, some hosting companies offer package deals that include professional email for free when you purchase hosting.
How much do domains usually cost?
If you can't find a free domain name, you should expect to pay roughly $10 to $20 per year for a standard domain like .com, .net, or .org. Other extensions are priced differently; some are quite cheap, while others may be $50 per year or more. CHK_ YOUR NAME RIGHT NOW
Use our engine to quickly check your content right now!