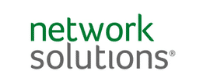 One-stop-shop. Best for small to medium-sized businesses that want tools to grow.
Visit Network Solutions
We might receive compensation from the companies whose products we review. We are independently owned and the opinions here are our own.
To establish a web presence for your business or yourself, you need a few things: An idea, a hosting package, and a domain name. Coming up with the idea is on you; everything else can be purchased through a domain name registrar.
This guide will discuss the best domain name registrars today and explain what you need to look for when choosing a company to work with.
How to choose a domain registrar
To choose the best domain registrar, you'll want to consider the following factors: Pricing, policies, bundles/discounts, customer service, and available add-ons. But even more important is to consider your personal needs and preferences.
Do you want the cheapest option to save money? Or are you okay with paying a bit more to get better customer service?
Do you just need a web domain, or do you want a full-service provider with hosting, marketing tools and more?
These are the questions to be asking yourself as you select a domain registration company for your needs. And, as usual, it pays to shop around a bit to find the best bargain on the best quality service.
To help you select, we've put together this list of the best domain registrars for 2022 and beyond.
Our picks of the best domain name registration services
Hostgator
Domain.com
Network Solutions
GoDaddy
Bluehost
Namecheap
DreamHost
Hover
NameSilo
DynaDot
Google Domains
What is a domain name registrar?
A domain name registrar is a company that specializes in helping customers register new domain names. They may also offer web hosting and other similar services, but the focus is on domain name registration.
Domain name registrars are private companies that you can use, for a cost. Domain names are technically managed by ICANN (Internet Corporation for Assigned Names and Numbers), a nonprofit tasked with managing domain names for the internet. Registrars are the public-facing option that everyday people can use to register domain names.
Records for all domain names are kept in a centralized database. To be recognized, a new domain name must be added to this database, along with information about who owns the domain. The domain registrar – with permission from ICANN – is the party responsible for adding your newly-registered domain name to the central database.
When you register a domain, you own the domain, but the registrar manages and "holds" it for you. This is similar to how your bank "holds" your money, but you actually own it. Similarly, you can transfer your domain to a different registrar, just like you can transfer funds to a different bank.
What to look for in a domain name registrar
There are dozens of competing companies in this industry, so how do you go about choosing the best domain registrar? Here are some factors to keep in mind in your search:
Pricing & registration periods
In the basic sense, most registrars are offering a very similar thing: They help you register a new domain name. Because the basic service is so similar, the price will generally be something to pay close attention to.
Look at the first-year upfront price for new domain registration, but also at the renewal price. Some registrars will lure you in with a cheap first-year price but then have above-average renewal pricing.
You'll also want to consider available registration periods. You must register a domain for a minimum of 1 year, but some registrars require a 2-year minimum. You can typically prepay for up to 10 years in advance, or you can simply pay for 1 year and set up auto-renewal.
With all that said, you don't always necessarily want to choose the absolute cheapest service. Sometimes, it's worthwhile to pay a bit extra for higher quality service, particularly if you ever need assistance with something.
Available domains/extensions
What kind of domain names and TLDs does the registrar offer? Is it only the popular domain extensions, or do they offer a good selection? Many registrars will offer hundreds of different TLDs and ccTLDs to choose from. If you're looking for something beyond the standard .com/.net/.org etc., then this is an important factor to pay attention to.
You may also wish to consider a registrar that offers aftermarket domains, premium domains, or even domain name auctions. These registrars expand the variety of domains that are available to you – if you're willing to pay extra.
Domain transfer policy
Registrars should allow you to transfer domain names to other registrars, and vice versa. However, the specific terms/policies around domain transfer can vary. It's a good idea to look at the domain transfer policy for the registrar you are considering before deciding on that registrar.
Note that ICANN restricts domain transfers within the first 60 days of registration. This is an ICANN policy, rather than a domain registrar policy.
Domain expiration policies
Domains are always registered for a set amount of time – with a minimum of 1 year, and a maximum of 10 years. They can be renewed before they expire, which extends the registration.
If you fail to renew your domain before it expires, it becomes available to anyone else to register. This means that someone else can register your domain name right out from under you (and indeed, there are many people that do this and then attempt to sell the domain back to the business owner).
To avoid this hassle, it's wise to ensure that automatic renewal is turned on. This requires keeping an active credit card on file with the registrar, and authorizing them to automatically renew the domain when it approaches expiration.
In addition to setting up auto-renewal, it's a good idea to also research the domain expiration policies of the registrar(s) you are considering. Some have a grace period that allows you to manually renew for a short period of time after the domain expires.
Add-on services
Most domain registrars also offer other services, such as professional email, web hosting, etc. In most cases, if you're registering a domain, you will probably need other compatible services as well. In some cases, it makes sense to use the same company for your domains and as your web hosting provider.
Some key services that domain registrars may offer include:
Domain registration
Domain privacy/Whois privacy protection to protect your contact information
Web hosting
Reseller hosting
WordPress hosting
Email accounts ([email protected])
Email marketing
Website builders
Website security features
Website builders for eCommerce operations
Marketing tools
And more
Your needs will of course vary depending on what you plan to use your website for. But if you're someone who likes simplicity, it's worth choosing a provider that offers all the services that you will need, so that you can keep everything in one place.
Bundles & discounts
If you plan to purchase multiple services (a domain and a web hosting package, for example), you can often score a substantial discount by bundling the services from the same provider. For instance, some web hosts include a free domain name registration when you sign up for a hosting plan. Keep an eye out for these bundled discounts to save some money!
You should definitely lookout for a bundle discount if you plan to purchase hosting separately anyways – or if you plan to use a website builder, third-party email provider, etc. It can save you both money and time to use the same provider for all of these services. However, only buy upgrades that you actually need! Many registrars have endless upsells for services during the checkout process, and you may not actually need all of those services.
Customer service
Choosing a company with good customer service is important, particularly if you're a new webmaster. The world of domains and hosting can be pretty confusing, and it's likely that you will want to ask some questions at some point. Look for companies that have a good reputation for quality customer service, and representatives available via phone and chat support. It's always a good sign when companies list their phone number openly (if it's hidden, that's often a sign that it can be difficult to contact support via phone).
Also, take a look at the provider's documentation, knowledge base/user guides, and FAQs. Many registrars have extensive knowledge libraries that show you how to do many of the tasks associated with owning domains and running a website. While you can find this information elsewhere on the internet, it's useful if your registrar offers it, as it will all be tailored to that specific platform/service. CHK_ YOUR NAME RIGHT NOW
Use our engine to quickly check your content right now!